February – June 2016
I knew that Kamikaze was being used in the 'Power and Conflict' section of the GCSE English Literature exam's 'past and present' anthology.  It was great to be printed alongside Shelley, Blake, Wordsworth, Browning, Tennyson, Wilfred Owen – and for me in particular, Seamus Heaney – as well as many distinguished modern poets. I've now been invited to one or two London schools to talk about Kamikaze to the class. It is quite a challenge:  30 or so keen-eyed 14 and 15-year olds full of their own ideas, challenges, complaints and questions.   I ended one session by asking the class to have a go at their own poems, and was later emailed several.   I suppose it's inevitable, but my overriding impression was how dominated the young writers felt by grand themes, and by old-fashioned 'poetic' language.   In response, I encouraged something more personal and direct, more based on their own real and actual experience, and I had the feeling that this was a relief, akin to being sprung from a kind of poetic prison cell.
Here's one of the poems that Hugo, Jonathan, Harry and Zac from Emily Kaplan's class at a large North London school wrote in an imaginative response to their study of the poem.   Other poems written were from differing points of view – the Emperor of Japan, or the mother or father of the young pilot…   All inventive and lively, though one or two hamstrung by the effort to find rhymes.  Forget rhyming for the moment!  Just write with energy!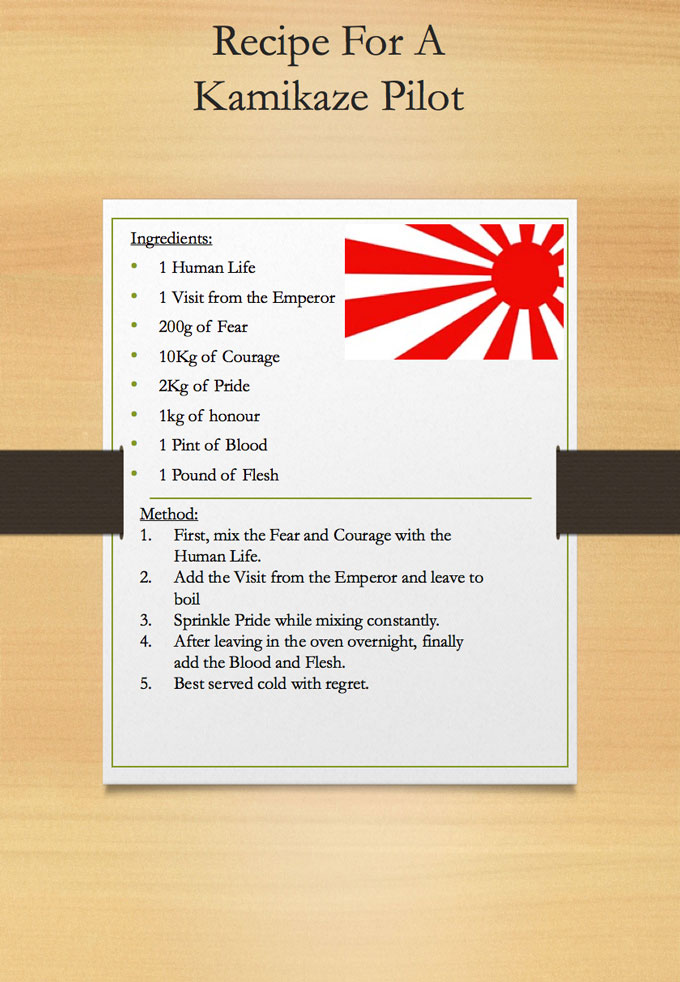 May 2016
What's more, even though I was neither asked nor told this was to happen, a few months later I was even more pleased to learn that Lady and Fox was the 'unseen' poem used in AQA's paper for this year's GCSE exams.   On the evening of the day of the exam I had over 50 unexpected emails from all round the country, both teachers and pupils.   It's so rare that a poem you've written gets that depth of attention and is taken so seriously:  it felt terrific.
The emails were very varied:  some serious, intelligent, extremely thoughtful and perceptive, some funny, including one of a photo of the young writer grinning like a fox, asking 'what does the fox say??'   Here's one I really liked:
"Soz luv,
What on earth was you on wen righting that poem. It was in are exam. All i want 2 no is wat inspired u. Rlly. 
i was getting a* now im getting nuffink.
lots of bants
G M, future McDonalds employee"
She'll go far, and it won't be in McDonalds either.
---
February 2017
After I've talked to a Year 10 or 11 group about the poem Kamikaze, I ask them to try their hands at writing Haiku. Partly to emphasise that Japan, in spite of dispatching so many young Kamikaze pilots to their deaths, has a rich and ancient culture in both art and literature. The three-line structure, amounting to 17 syllables in all (5/7/5 syllables per line) is quite demanding: but here are a bunch of lively Haiku from four schools. (Yes, I know the one about the Asda sausages didn't get the counting quite right, but I like it all the same. Sorry I don't have the poet's name!)
HAIKU from Years 10 and 11
Loyalty is but
a flower in the wings of
fear and temptation.

Faisal Alam

The fish and chip shop.
Shout out to my man Gary:
his chips are the best!

Ali Sajad

Eye-to-eye, silent.
An attempt to reconcile…..
sputter. Stop. A smile?

Simrin Rahman

Live life to the full.
It can be difficult but
we can get through it.

Jasmine Offiler

Maybe I do know
but I am told that I don't.
So silence nears me.

Ayshah Lawrence

Tyler is my name.
Strawberries is what I hate.
But I do love cake!

Tyler

Called a poet by
a poet….is there any
honour greater here?

Ellie Keightley

As they cried, hoping,
quick, so it doesn't strike again….
too late, limbs everywhere.

Ali Cicek

A helpless struggle:
Love of self or love of home?
Death hides behind both.

Jude

At the back she stands
observing everyone's plans….
Miss Liu walks, then stands.

Jude

Mother, sister, sea,
Father, daughter, mister, me
Into darkness, we….

Samni

The eager smell lurks –
men eye men with great anger.
Who is the culprit?

Dennis

I approach the boat,
with a flare in my eyes – death
cowards into darkness.

Anwar

His gun a brush – with
large brushstrokes he paints vivid
scarlet canvases.

Jordan

A big brown rabbit
who did not eat his carrot:
he's on a diet.

Jahdiah

Snow falls at daybreak.
It smooths the motionless night
with glorious light.

Oliver Pritchard

Asda discount sausages
go well for my meal tonight –
you gotta love good sausages!

Anonymous
To GCSE students and teachers: A POLITE REQUEST!
I often get emails from you, and I really enjoy this, and am quite willing to respond to serious questions.  However, and this is becoming increasingly  important to me, when I've written back to you – and sometimes it takes quite a lot of thought and time, not always easy at the end of a working day – it is very disconcerting to hear absolutely nothing in reply.  I think it should be basic, just to send a quick email saying 'thanks!' in response.  It encourages me to answer the next email, instead of feeling vaguely 'used' by the student or teacher, maybe to get good marks in an exam, or to prepare a class.
Just a word or two back will do.  (A few of you do this anyway, but most don't!)